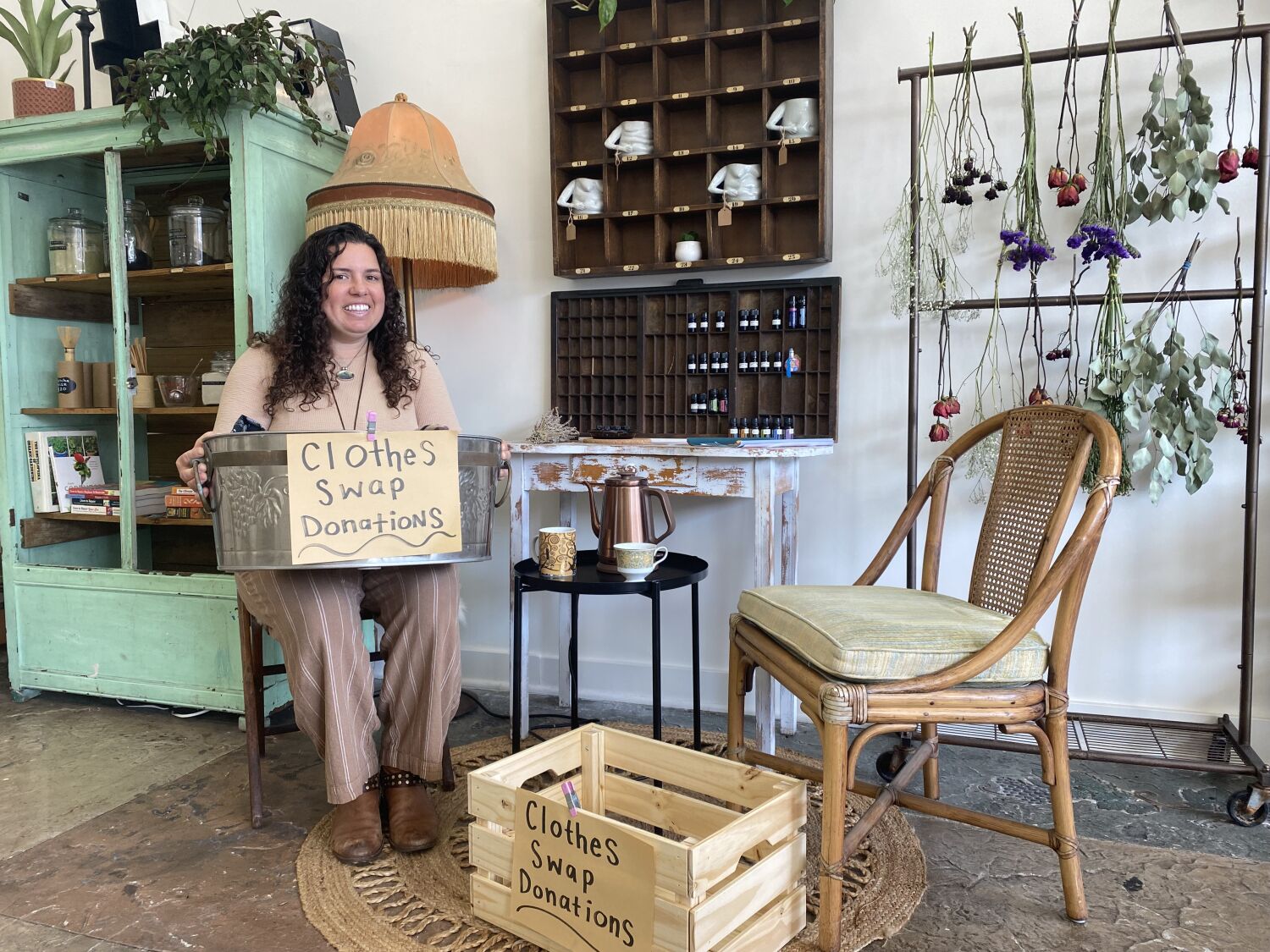 Even for people who want to reduce their carbon footprint, the zero waste goal can be daunting.
It is difficult not to create waste, even if we want to lead an environmentally friendly life. So Heather Kornman, owner of the Golden Triangle Shop, suggests setting a goal to create less squander and align it with the activities in your life that bring you joy. Like finding something new to wear.
Clothing swaps – gatherings where people donate and/or acquire used clothing for free – are a way for people to play a small part in reducing their carbon footprint. The events, which are usually free, are designed to upcycle or recycle clothes that have been pre-loved. Some clothing exchanges have admission requirements, such as bringing a certain number of items to donate, and some don't.
Kornman, a small business owner, has made helping members of his community achieve their waste reduction goals the mission of his Lomita-based company. At the Golden Triangle Shop, customers can bring a jar or container to fill with hand soap, shampoo, or loose tea. It's also a space where the community can learn more about sustainable living, as Kornman has partnered with Good Morning, Cactus to host their plant care talks and workshops.
Now Kornman is leaning into more community engagement events, like hosting clothing swaps to get neighbors talking about sustainable fashion. His next one will take place on March 18 at 24605 Narbonne Ave. in Lomita from 10 a.m. to 3 p.m.
By bringing a few clothes to donate to the event – ​​or even arriving empty-handed – attendees will be able to look through the clothes others have left behind. If they see something they like, Kornman said, they'll be free to take it.
Other clothing exchanges take place in Los Angeles and Orange counties. Here are some of the people and organizations behind upcoming events and where to find them.
Pasadena
An interest in sustainability, fashion sustainability in particular, led Nicole Macias, Jannine Mancilla and Enri Navarro to hold separate clothing swaps before teaming up to create Radical Clothes Swap.
Macias said the group learned that there were a lot of clothes that weren't being recycled and ending up in landfills. Clothes are also donated to thrift stores which are sometimes at capacity, then the donations go to the trash.
"In a capitalist world," Macias asked, "what is the most radical thing you can do? Giving away resources for free while helping the environment? Say no more.
While the educational component of sustainable fashion is important to the individuals behind Radical Clothes Swap, it also seeks to give the community access to more clothing.
"We knew what we were doing was needed in our communities because we all shared similar stories of growing up with no money or accessibility to dress the way we really wanted," Macias said.
Passing on clothes in this way reminded women of their mothers, tias, abuelas and other family members who sent lightly used clothes to their home countries.
Their families had been doing this for generations, but they never had a name for it other than second-hand items.
The clothing swaps sounded familiar to some people, Macias said, but the group was also met with skepticism.
"People would walk past our table at events and say, 'Wait, why is it free? » What's the catch? ", Did she say. "And we were all right. We told them: 'There is no catch. It's free. Like free, free.'"
Although their events are free, the women sell merchandise or accept donations to help turn Radical Clothes Swap into a nonprofit. They also accept monetary donations to purchase garment racks, hangers and canopies for existing events.
To learn more about Radical Clothes Swap and their upcoming events, visit their website or Instagram account. The group has a monthly residency at Angel City Brewery in the Los Angeles Arts District every second Saturday of the month from 12 p.m. to 5 p.m. The event is restricted to ages 21 and older, but a minor can attend if accompanied by an adult.
Event: Pop-up at Erva Brew Co., 2377 E. Colorado Blvd. in Pasadena
Date and time: March 18, 12 p.m. to 4 p.m.
Ontario
After organizing a clothing swap for their friends, Veronica Ealba and Emanda Ceccia thought they could do the same for the public. Ceccia's event design skills and connections to local creatives, combined with Ealba's passion for fashion and sustainability, helped them start Consumpton Collab.
Consumption Collab is a full-service event design and production agency that specializes in hosting clothing swap events. The women are collaborating with businesses across Southern California – including the City of Los Angeles, Orange County, San Gabriel Valley and the Inland Empire – to create pop-up events that give attendees the opportunity to swap clothes while local businesses and artists promote their products, art and music.
They said young creators in their communities struggle to find affordable spaces to showcase or sell their work, and Consumption Collab wants to help.
"Our project is focused on creating equitable opportunities by providing more events and opportunities for these creators that don't cost a lot," they said.
The clothing swap component of the event, Ealba and Ceccia said, is a great way to engage with the community.
"Unlike the monotony of buying and selling, the goal is to provide an experience where consumers interact with creators to inspire each other," they said.
To stay up to date on the next trade pop-up, keep an eye on Consumption Collab's Instagram account.
Event: A Consumption Collab and Dragon Fruit Skincare pop-up at 119 W. Transit St., Unit 1, Ontario
Date and time: March 18, 11 a.m. to 3 p.m.
irvine
Organizing a child's birthday party or a bridal shower can lead to a lot of waste.
When Dayna López-Price threw a party, she would head to her local Dollar Tree to buy disposable decorations because they were "easy to clean and throw away."
Several years ago, the Orange County resident said she was starting to become more aware of the damage caused by disposable party supplies (usually plastic, a non-renewable material) and single-use tableware at home. 'environment.
In an effort to keep large amounts of party waste from ending up in landfills, Price launched Festiveknickknacks Sustainable Parties in 2019.
Through his small business, Price offers customers party kit rentals that include themed decoration, tablecloths, silverware, and other party-planning necessities.
After launching Festiveknickknacks, Price wanted to advocate for other ways to reduce waste. That's when she finds out about clothes swapping events.
Price has been hosting clothing swaps once a month since 2021, and at the end of each event, any remaining items are donated to the Orange County Rescue Mission. Events often take place in Irvine city parks, but Price said the best way to find out where the next event is is to visit the events section on the Festiveknickknacks website or check their Facebook page. .
Event: St. Patrick's Community Swap & Share at Irvine Ranch Water District Community Meeting Room, 15500 Sand Canyon Ave. in Irvine
Date and hour : March 19, 11 a.m. to 2 p.m.
Costa Mesa
Eco Now is a zero-waste business and store with multiple locations in Orange County and, later this year, Riverside.
Founder Thea Pauley strives to educate others to make sustainable choices while offering local, handmade and eco-friendly products in her stores to reduce waste.
"When I started my business four years ago, I knew I wanted to incorporate community and educational events as a mainstay of our brand," Pauley said.
She hosts monthly clothing swaps and many other environmentally focused events to highlight sustainable living and make it more accessible.
In her Orange County community, Pauley said, she saw an interest in clothing swaps, but the events weren't accessible.
"My mentality is if nobody does it, then I have to do it, otherwise it might not happen," she said. "And quite frankly, we don't have time to waste on the subject."
The next clothing swap is scheduled for Earth Day, April 22. For more information on current and future events, visit the Eco Now website or check out its Instagram and TikTok accounts.
Event: Go Green Mother Earth Market at Camp, 2937 Bristol St. in Costa Mesa
Date and time: March 17, 10 a.m. to 3 p.m.
The women behind Radical Clothes Swap have created a handy guide to hosting an event for those around you. Their three stages are:
Start a stack. Go through your closet and look for clothes that don't bring you joy, don't fit, or haven't been worn in at least six months.
Gather your friends. Choose a date and time to invite your friends for the exchange. Create your own guidelines for the event, such as a minimum number of items to add to the swap stack.
Trade until you drop. Enjoy your company and update your closets with pre-loved gifts. Whatever clothes are not chosen can be recycled for your next exchange.
About the Times Utility Journalism Team
This article comes from The Times Utility Journalism Team. Our mission is to be essential to the lives of Southern Californians by publishing information that solves problems, answers questions, and aids in decision making. We serve audiences in and around Los Angeles, including current Times subscribers and various communities whose needs have not been met by our coverage.
How can we help you and your community? Email utility(at)latimes.com or one of our reporters: Matt Ballinger, Jon Healey, Ada Tseng, Jessica Roy and Karen Garcia.